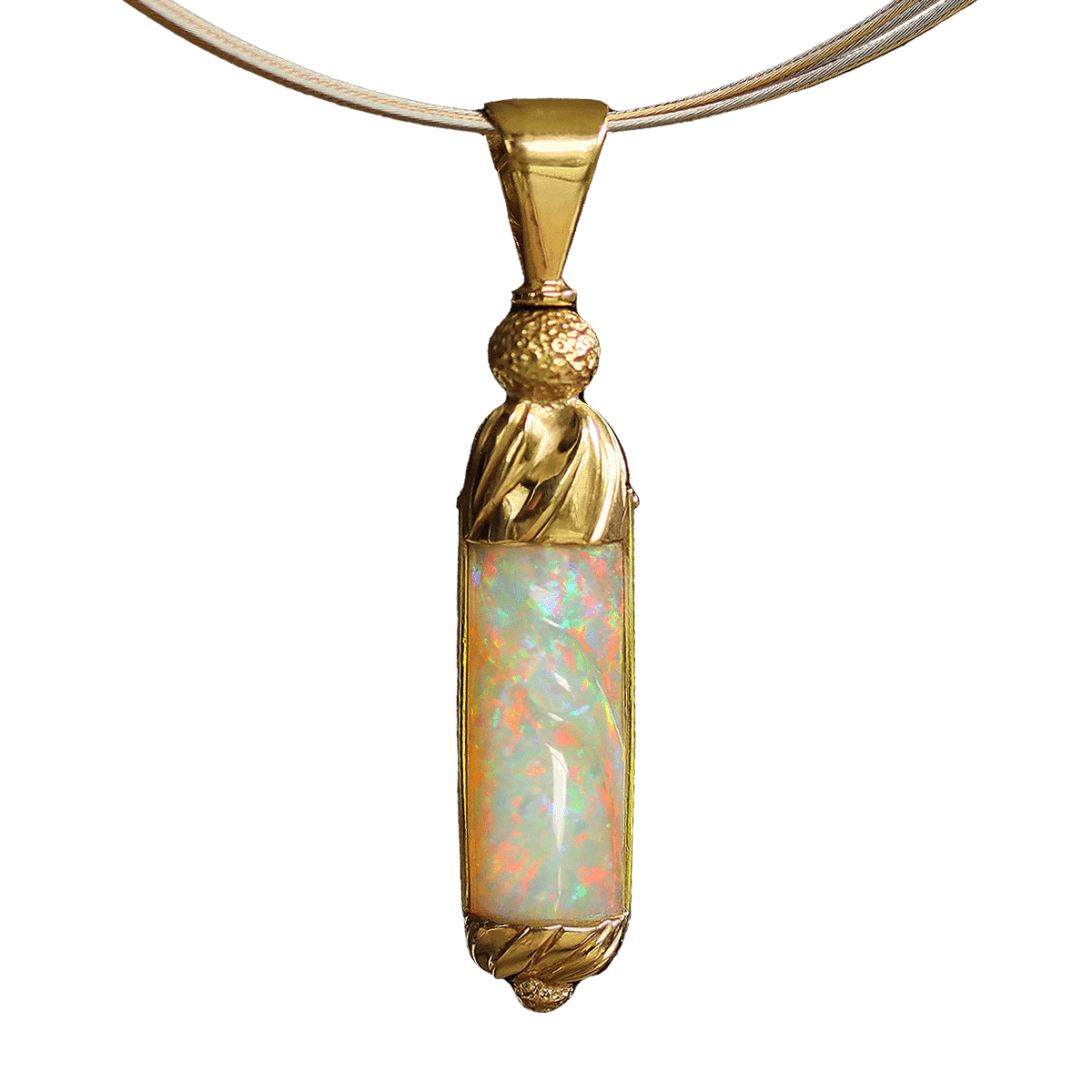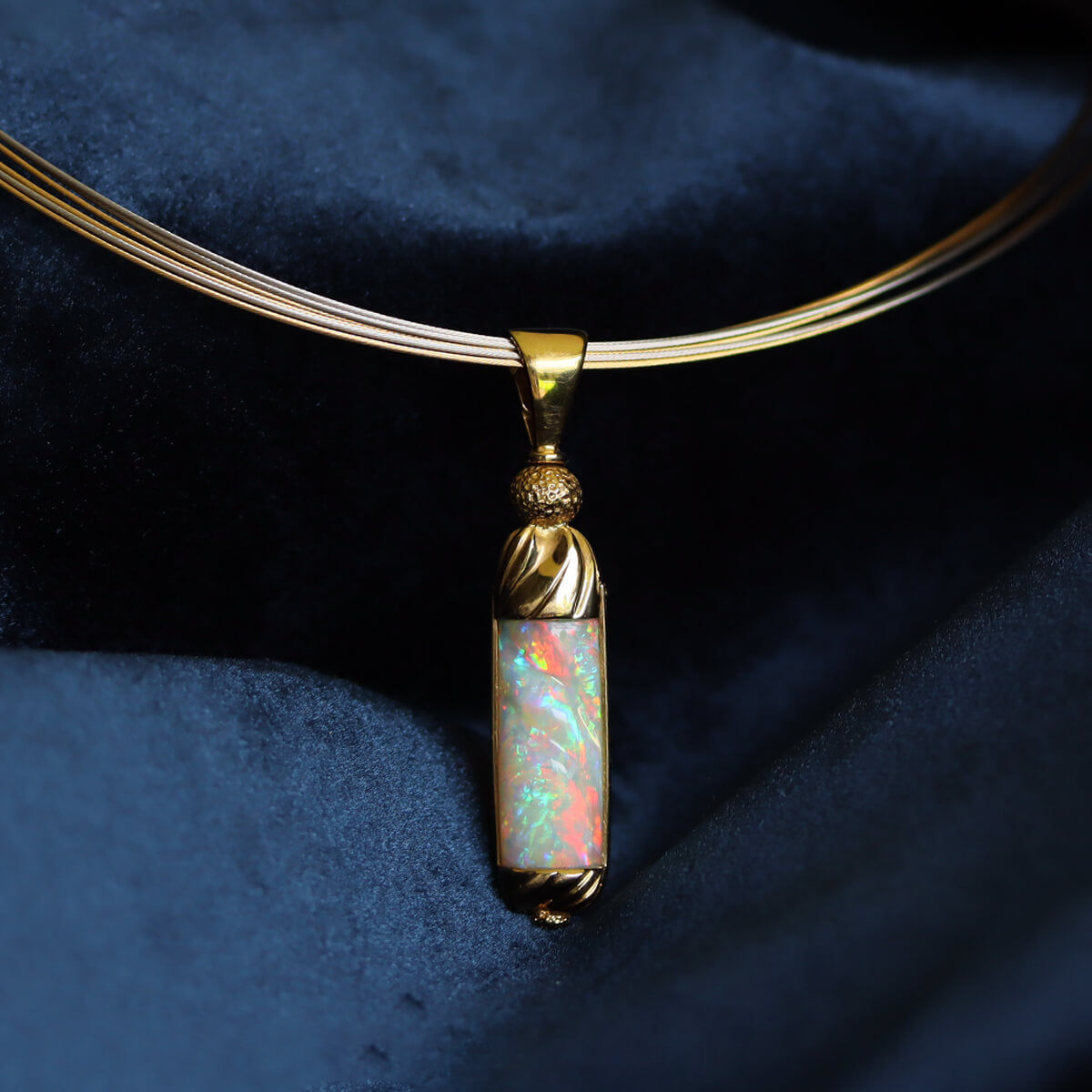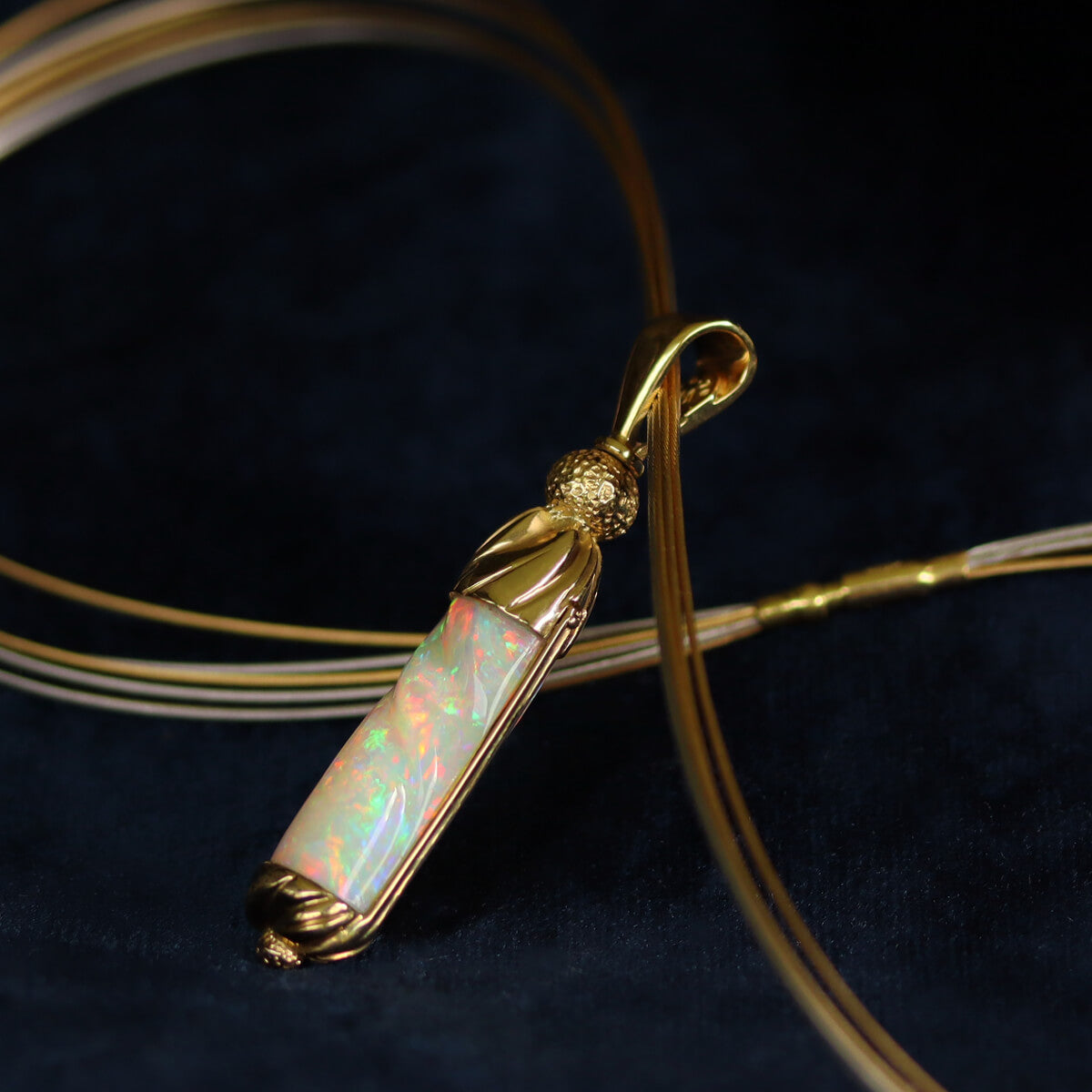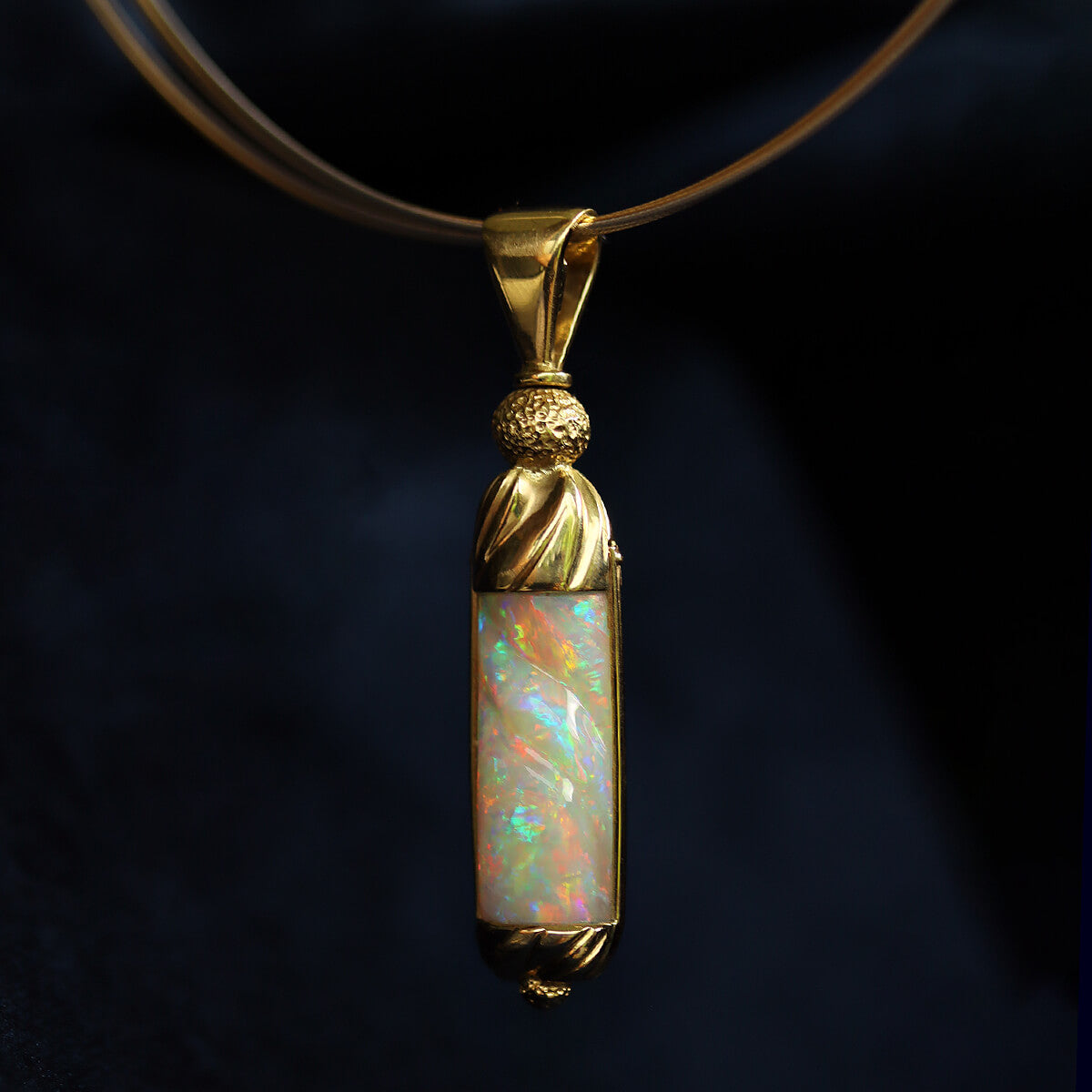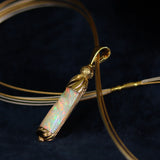 Description

Product Details
What a charm of light. Not only is this a stunning solid 18K gold pendant but the beautiful Light Opal is also a fossil. This opal is a belemnite, an ancient sea creature similar to a cuttlefish that had a round bone in its back and some of these became opalised over the last 100 million years. This is a double sided setting and is on a swivel so it moves freely flashing its gorgeous bright colours constantly. Red, green and blue sparkle from this amazing, truly one of a kind pendant. A stunning cable choker is included with solid 18K gold and Platinum cables.
Light Opal 10.70ct
18K solid Gold setting
Includes 18K solid Gold & Platinum chain
SKU: N20M8344
---
We stand by our quality
All our jewellery, as with all our products, are guaranteed for life. With world class workmanship, each piece is handcrafted by Master Artisans to the very highest of standards. Each piece has a Certificate of Authenticity and a GIA Gemologist Certificate. 
---
Sustainably & Ethically sourced
SHIPPING & DELIVERY

Secure Express Shipping

Manor Gryffin offers complimentary express shipping services for orders, (3-5 Days) utilising only the most reputable couriers. Our shipments are tracked and fully insured against potential losses, damages, or theft, providing you with peace of mind throughout the entire purchase process.

Customs & Duties

When it comes to international shipments beyond the Australian borders, it's important to bear in mind that various customs and import fees, duties, and taxes may apply in the destination country. Such fees and charges are the sole responsibility of the customer, who will be required to cover any costs that may be necessary for customs clearance.

Gift Wrapping

We believe that the act of gift giving should be a momentous occasion, marked by an extra touch of sophistication and elegance. That's why we offer a luxury gift wrapping service, available upon request, to elevate your presents to a whole new level of refinement. Our range of materials and styles is extensive, ensuring that we can accommodate all your gifting needs with the utmost attention to detail.
FAQs

Can I see the jewellery in person?

At Manor Gryffin, we understand that seeing a piece of jewellery in person can make all the difference in your purchasing decision. That's why we offer our valued clients the option to personally view their desired jewels at our exquisite Gold Coast boutique. Alternatively, if you prefer, we can bring the boutique to you via our Online Concierge service - our Jewellery Experts are only a video call away.

How do I care for my opal jewellery?

When it comes to caring for your precious opal jewellery, we recommend giving it a gentle wash with warm soapy water every few months. Australian Opal, in particular, loves this cleansing routine and won't fade or discolour when washed. This practice will effectively remove any oils or dust that may have accumulated on your jewellery over time and will help your opal shine in all its resplendent glory. Remember to handle your opal jewellery with care and keep it away from extreme temperatures, chemicals, and abrasives to maintain its natural radiance for years to come.

Can I swim or shower while wearing opal jewellery?

Indeed, you may swim or shower while wearing your Manor Gryffin opal jewellery without worry. Australian opal, in particular, is impervious to water and is perfectly safe to wear in these situations. However, it's important to exercise caution to avoid accidentally losing your jewellery in the water. Keep a close eye on your opal piece and enjoy the full experience of wearing your opal jewellery with confidence and ease.

What is your Returns Policy?

At Manor Gryffin, we pride ourselves on our quality products and exceptional customer service. If for any reason you are not fully satisfied with your purchase, you may return it within 30 days of receiving your order. To initiate a return, please contact us within 3 days of delivery to receive further instructions. Please be sure to review our Conditions of Sale for more information.
ALWAYS ETHICAL & SUSTAINABLE
Because We Care
We take great pride in knowing the origins of each component we use. Every gemstone and precious metal we sell is mined and produced in Australia. This way we can be 100% confident all our gems are conflict free and each piece is created with the upmost care and respect, from the mine to the final product. Australia has the most ethical and sustainable gemstone mining practices in the world.